Injections and Fillers
Facesthetics
Facesthetics is a medical aesthetic company which is led by one of our resident dentists at Horbury Dental Care – Helen Davison.
Facial aesthetic treatments can complement your dental treatment by ensuring that we frame your new smile in creating facial symmetry and balance while considering softening the signs of ageing.
Helen focuses on natural results which restores harmony and is in keeping with what nature gave you. She will assess your concerns, give treatment options and also look at the bigger picture – the whole face.
Whether your cosmetic concerns relate to a particular feature, the signs of ageing or you are wanting prevent ageing we very much believe in optimising what nature gave you – offering topical or  rejuvenation treatments to ensure your skin foundations are strong prior to considering injectable treatment alternatives.
Facesthetics ethos is;
Prevent – the signs of ageing
Restore – what nature gave you
Enhance – your featured to ensure balance and harmony to your facial features.
For more information about treatment or your concerns visit www.facesthetics.co.uk or visit our instagram and facebook

ZO Skin Health
Medical and scientifically proven skincare products to strengthen your skin and prevent the signs of ageing while also treating problematic skin conditions such as;
Acne
Rosacea
Eczema
Pigmentation
SkinPen Microneedling
FDA approved microneedling which stimulates new cells and promotes healing. As a rejuvenation treatment it can soften lines and wrinkles, even the skintone and remove pigmentation whilst also giving back your glow. It can also be used to eliminate scarring from trauma and acne.
Muscle Relaxing Injections
Botulinum toxin or Botox(R) as its more commonly referred to can be used to treat both medical concerns such as tooth grinding (bruxism) and tension headaches and also cosmetic concerns such as lines and wrinkles.
When reducing muscle activity the creasing of the skin reduces and lines soften but furthermore are prevented from deepening. Typical areas that we treat for cosmetic reasons include the frown, forehead, crow's feet lines, chin dimples, bunny lines and gummy smiles. Used in a specific way we can often create eyebrow/eyelid lifts which is often a common complaint with ageing and patients often consider this treatment prior to considering surgical intervention.
Filler Treatments
These can be used to replace lost volume, re-support the skin to create shape, symmetry and contour to the face. Whether your concerns relate to dark hollows in the under eye area, deepening of nose to mouth lines, development of jowls or bumps on the nose we offer a selection of filler treatments including treatments to the;
Lips
Fine Lines and Wrinkles
Cheeks
Tear Trough (under eye hollows)
Jaw
Chin
Non Surgical Rhinoplasty
Before and After Cases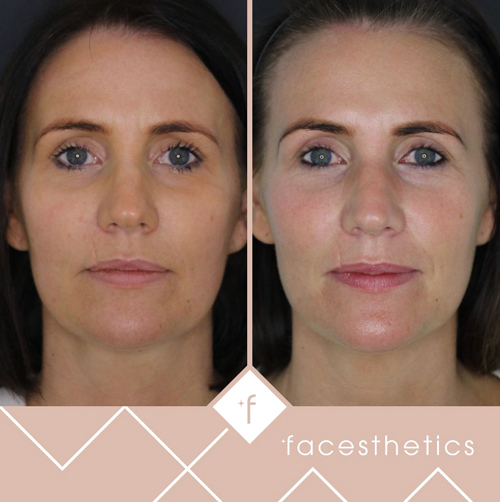 Before & After 6 weeks of using ZO Skin Health Products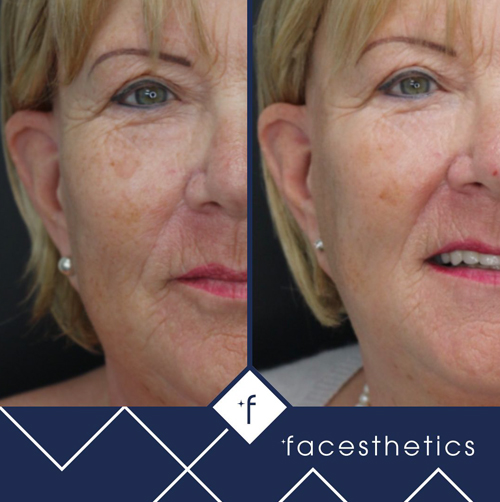 Before & After SkinPen Microneedling
3 treatment sessions to even the skintone and soften lines and wrinkles.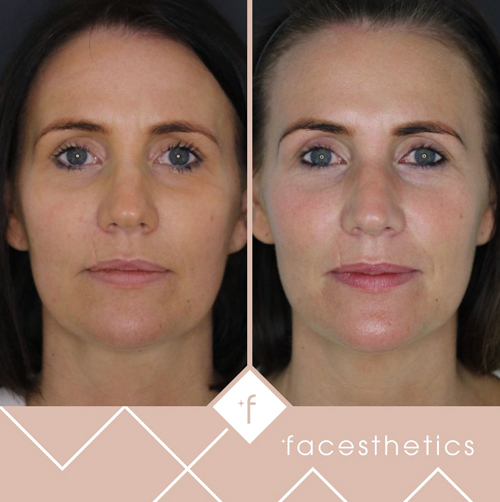 Before & After ZO Skin Health products and injectable treatments